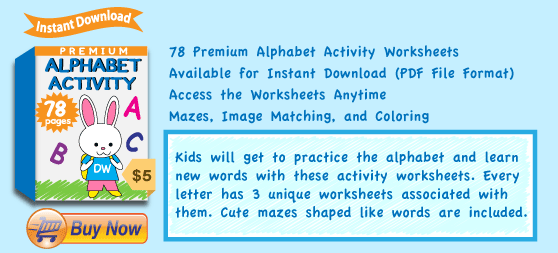 Learning the Alphabet with Fun Activities
Our Premium Alphabet Activity Worksheets Collection is comprised of 78 worksheets made into one easy to use PDF file. Included in this package are 26 cute mazes shaped like words that match each individual letter of the alphabet. Also inside are 26 alphabet coloring worksheets and 26 image matching alphabet worksheets where kids have to circle the images that match the corresponding letters.
We Accept PayPal, Credit Cards, and Debit Cards
We use PayPal and Gumroad to process payments online. Gumroad is the brainchild of one of the first Pinterest designers. Gumroad supports all major credit cards (and some debit cards). That includes Visa, MasterCard, American Express, Discover, JCB, and Diners Club cards. You also have the ability to pay using your PayPal account.
Problem? You Can Contact Us Directly by Phone
If you ever have an issue with your purchase you can contact us directly by email or by phone. Our telephone support line is (215)-764-6399.
Please help us spread the word: